Introduction
iPhone Jammer U11 is specially designed for hidden and covert protection of conversation from listening and recording of confidential information on devices with microphones such as smartphones, dictaphones (include professional and digital), radiomicrophones, wired microphones.
The ultrasonic jammer U11 creates a noiseless powerful barrier to the microphones in modern phones iPhone, Samsung and others, as well as advanced voice recorders: Edik mini etc, which absolutely does not disturb to listen companion but make not possible any audio recording.
Due to such interference the conversation on the record transforms into the noise, therefore can not provide the useful information.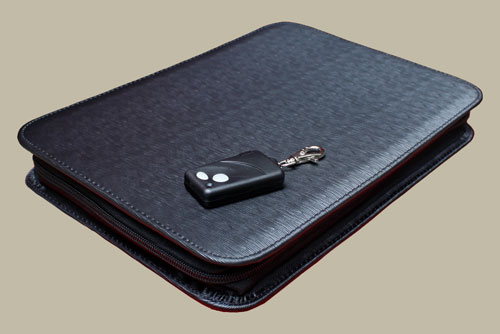 iPhone Jammer U11 with Remote Control
Disadvantages of other kinds of audio recorder jammers
Most of the devices to supress audio recorders operate on the principle of generating a noise or a speech-similar noise. This method is quite effective, but has some disadvantages - the work of such devices is audible, therefore it also interfere to the interlocutors to talk. Furthermore, it is impossible to use this kind of audio recorder jammers in secret from an interlocutor.
Another popular type of devices to prevent audio recording are electromagnetic audio recorder jammers. It generates special electromagnetic noise, which interferes to easdropping and recording devices to make a recording. Unfortunately this electromagnetic noise does not produce a sufficient effect on many models of modern digital recorders or the suppressing distance is too small.
Advantages and functional features
concealed carrying. Our jammer of recording devices U11 looks like as an ordinary folder for papers and not attract much attention either in the office or on the street.
the device works secretly. Ultrasonic interference, generated by the iPhone Jammer U11, can not be heard, because the frequency of the ultrasonic noise is above the human hearing.
comfortable conversation. Our ultrasonic jammer does not creates obstacles to the conversation by blocking the recording devices with using ultrasonic suppression in silent mode.
blocking of various devices with microphones regardless of their type: voice recorders built-in smartphones, digital voice recorders, wired and wireless microphones, eavesdropping devices, professional "bugs."
compact size. Ultrasonic iPhone Jammer U11 has small size and light weight, so it can be carried wherever you may need protection from unauthorized recording or eavesdropping.
autonomous operation. Our ultrasonic jammer is powered by a built-in rechargeable battery. So you always can to turn on the U11 and protect yourself from listening and recording not only indoors, but also on the streets or in places where the electric power is not accessible. Large capacity internal battery ensures autonomous operation of the ultrasonic suppressor for several hours.
remote control. Allows you to secretly turn on and turn off the device, as well as to monitor the level of built-in battery.
5 ultrasonic speakers provide high efficiency and long-range distance of noiseless suppression.
safety of using. Because of low power ultrasound radiation, suppressor of recording devices U11 is completely safe to operate in the workplace. It allows without breaking the conditions of work, to use it for protection against the audio recording in jobs, study, office. Also the device is not heated and does not emit any electromagnetic.
Specification:

Distance of suppression
1,5 - 6 meters
Suppression beamwidth horizontal
80°
Suppression beamwidth vertical
80°
Type of the interference
ultrasound (noiseless)
Frequency of the interference
24 kHz ÷ 26 kHz
Output Sound Pressure
≤120dB
Number of speakers
5
Operation time
~5 hours
Power Supply:
Internal Li-Pol Battery
Charger:
110-240VAC / 9VDC, 1.5A
Charging time:
~60 min
Remote control range
up to 5 meters
Dimensions:
310 x 220 x 40 mm
Weight
600g
Operating temperature range
+5°C ~ +55°C